Christian Mandalas

† 

Coloring Books:
The Family Coloring Book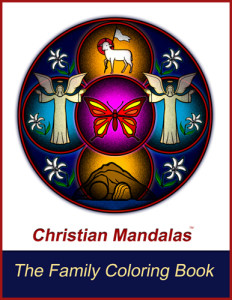 22 Christian Mandala Designs and over 50 Symbols to Color
Designed for Young People
At one level, this is a coloring book full of images using the structure of classic stained glass windows found in Christian Churches throughout the world.
Designed for Families
At another level, the images in the coloring book utilize Christian Symbols.  Each image, like a stained glass window, has a central theme.  The symbols focus on the central theme.  By becoming involved in the book as a family, the Christian Symbols become a language to help children understand the great Christian themes in a new, visual way.
A Learning Tool
There are over 50 Christian Symbols used in this book.  Short descriptions are given for each symbol.  The Symbols are used in 22 Christian designs, or mandalas, covering the breadth of the Bible.  By using the symbols and discussing the imagery as a family, learning takes place on both a visual and verbal level.
The designs in this book are original art created by award winning Christian Artist Kerry Pierce.
Click here to buy at Amazon.com
–
The Art of Coloring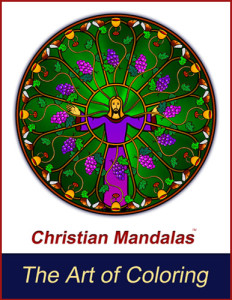 22 Christian Mandala Original Art Designs to Color
Christian Art
This is a Christian coloring book.  It contains Christian themes created with detailed Christian Symbolism.  You will notice a range of styles.  Some pages are traditional stained glass window structures found in Christian Churches and Universities.  In other pages, the designs become Escher-like.  Other pages move further into abstraction.  In each case, I have attached relevant passages from Scripture to reflect upon as you color.
Original Art
The pages are original art.  In a few cases I have borrowed from Church and University stained glass windows that are close to my heart.  In these cases I have altered and enhanced the original windows to read well in the line art format.
Art to make your own
I believe that coloring is an art form.  The intent of this book is to enable coloring at a very high level.  If time and thought is given to the pages the results will be new art of your own creation.
The Artist
The designs in this book were created by award winning Christian Artist Kerry Pierce.