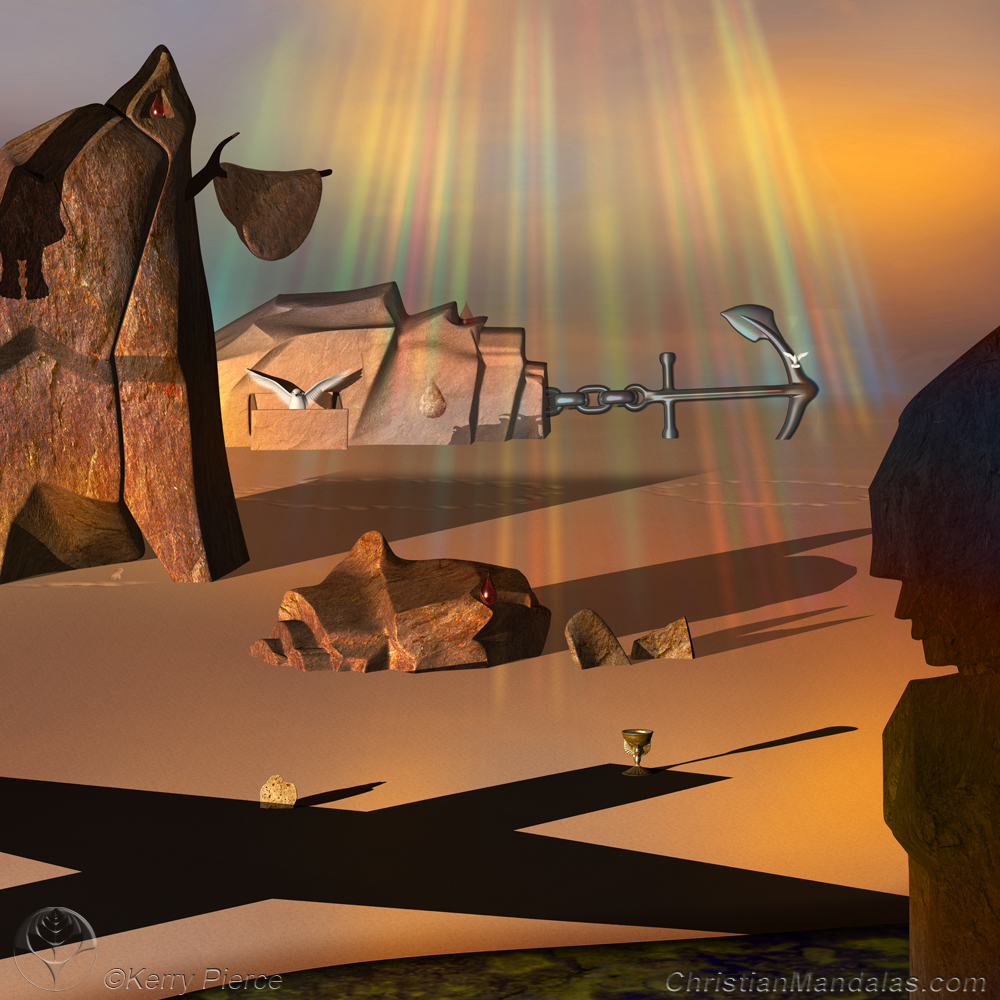 Are believers composed of two parts, a body, and a soul, or do we consist of three parts, body, soul, and spirit?
Throughout this blog series, I've assumed body, soul, and spirit.
First, know that gifted theologians are divided on this topic.  Some fall into the two-part camp, some into the three-part camp.  Theologians commenting on 1 Thessalonians 5:23 often admit that it is a fine distinction between the two positions.
Regardless of which camp you align with, considering our spirits is essential.  Look at John 4:24, where Jesus tells the woman from Samaria, "God is spirit, and those who worship him must worship in spirit and truth."  Our spirits are the divine element within believers by which we worship God.
A great example is found in the meeting of Mary and Elizabeth.  Their visit is super-charged with the Holy Spirit.  Elizabeth was filled with the Holy Spirit. Elizabeth carries John the Baptist.  John is unique in that he is filled with the Holy Spirit while in Elizabeth's womb.  Like those who experienced the Holy Spirit in the Old Testament, the Holy Spirit 'came upon' Mary for a special task, the birth of our Lord.  Additionally, the child Mary carries is the Son of God.
The result is Mary's Song of Praise.  Luke 1:46-47, 46 And Mary said, "My soul magnifies the Lord, 47 and my spirit rejoices in God my Savior…."  Mary's praise to God came from her spirit. Her soul then expressed that praise in her Song of Praise found in Luke 1:46-55.
The spirit is immaterial, but it is a reality.  It is everlasting, continuing beyond our physical death.  Again, it is that part of believers that is capable of connecting with God.  As described in the Biblical Illustrator, the spirit is "Dead or asleep in the unregenerate [those who are not yet born-again], it is quickened into life by the Holy Spirit."
The Commentary Critical and Explanatory on the Whole Bible explains, "The 'spirit' links man with the higher intelligences of heaven, and is that highest part of man which is receptive of the quickening Holy Spirit."
Again, a believer can feel the Holy Spirit's connection with their spirit.
I feel the spirit within me most when I use the spiritual gifts given to me by God.  Especially when I am using them to benefit God's Kingdom and the people of God.  In more concrete terms, when I am creating a new piece of art inspired by Scripture, or when I am studying Scripture in preparation for a class I might be teaching, I feel his presence.  I am in a place of deep joy.  These ministries are an act of worship for me. 
New ideas and enlightenment from my spirit manifest themselves in my consciousness.  This manifestation is not a still small voice for me. It is more often a burning awareness I feel coming into my mind.
When we believe in Christ and his work, we are born again. Like Mary, the Holy Spirit comes upon the believer creating a new life.  A spiritual life. The spirit within enables us to receive the Holy Spirit, to be permanently filled with the Holy Spirit.  We are born as spiritual infants.  Our responsibility as Christians is to grow our spirits into maturity.  Spiritual growth accelerated by chewing on the Word of God together with prayer.
As Hebrews 4:12 tells us,
12 For the word of God is living and active, sharper than any two-edged sword, piercing to the division of soul and of spirit, of joints and of marrow, and discerning the thoughts and intentions of the heart.
My prayer for us echoes that of Paul in 1 Thessalonians 5:23.
23 Now may the God of peace himself sanctify you completely, and may your whole spirit and soul and body be kept blameless at the coming of our Lord Jesus Christ.