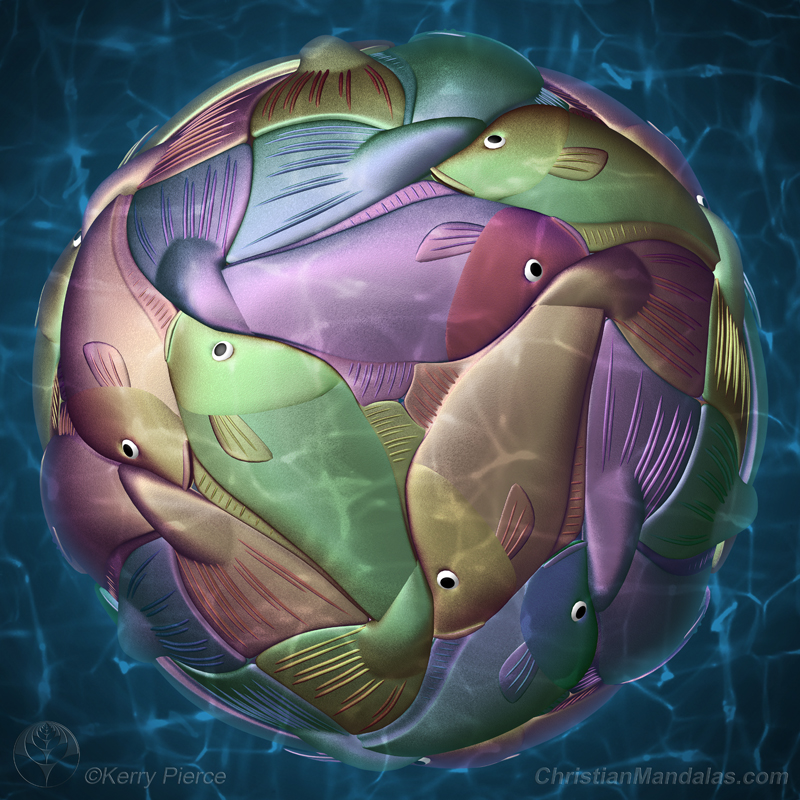 1 John 4:14-15 (ESV)
14 And we have seen and testify that the Father has sent his Son to be the Savior of the world. 15 Whoever confesses that Jesus is the Son of God, God abides in him, and he in God. 16 So we have come to know and to believe the love that God has for us. God is love, and whoever abides in love abides in God, and God abides in him
Symbol and Notes
Fish – A Greek acronym. The five Greek letters ΙΧΘΥΣ translates to Fish. These five Greek letters are also the first letters of the words in the Greek phrase, Ο Ιησούς Χριστός, Θεού Υιός, ο Σωτήρας which is Jesus Christ, Son of God, the Savior.
From the Symbols in Christian Art and Architecture website:  "This symbol [shown below] was used by believers in the early days of persecution as a secret sign of their shared faith. One person would draw an arc in the sand, and the other would complete the sign to show his brotherhood in Christ."
If you see the sign of the fish on a car, the vehicle probably belongs to a believer.
Notes on the Dutch Graphic Artist M. C. Escher
M. C. Escher is the Dutch artist and printmaker who created a large number of motifs, which, when repeated, filled the printed page. This technique is referred to as "regular division of the plane" or tessellations. The main image shown at the top started with a two-dimensional fish motif from Escher. Using Escher's pattern, I created a CG object using 24 fish, forming a sphere.
Escher's spirituality is interesting. From 1920 to 1927, we find at least 11 Escher prints with Biblical themes. Nine of the works from this timeframe depict themes from the book of Genesis, focusing on the Creation. Twice he creates works specifically depicting the fall of humankind. Finally, the subject of atonement was found in the print, Scapegoat.
As an artist, Escher continued to create prints with Biblical themes and incorporate Christian symbolism in his work. Escher was a very unique man who read Scripture. He referenced the Bible in his lectures and his writing. In him, we have a man who used his full creative energies to depict Biblical subject matter. A man whose reflection on Scripture manifested itself in his artistic statements. Escher was searching. He wrestled with the concepts of Good and Evil. He acknowledges the fall of humankind. He acknowledged life after death, and he symbolically depicted the roles of Christ in his later work. Escher let us know what was on his mind throughout his life. He pursued this course of action to the end. He sought, and, I believe, he found.