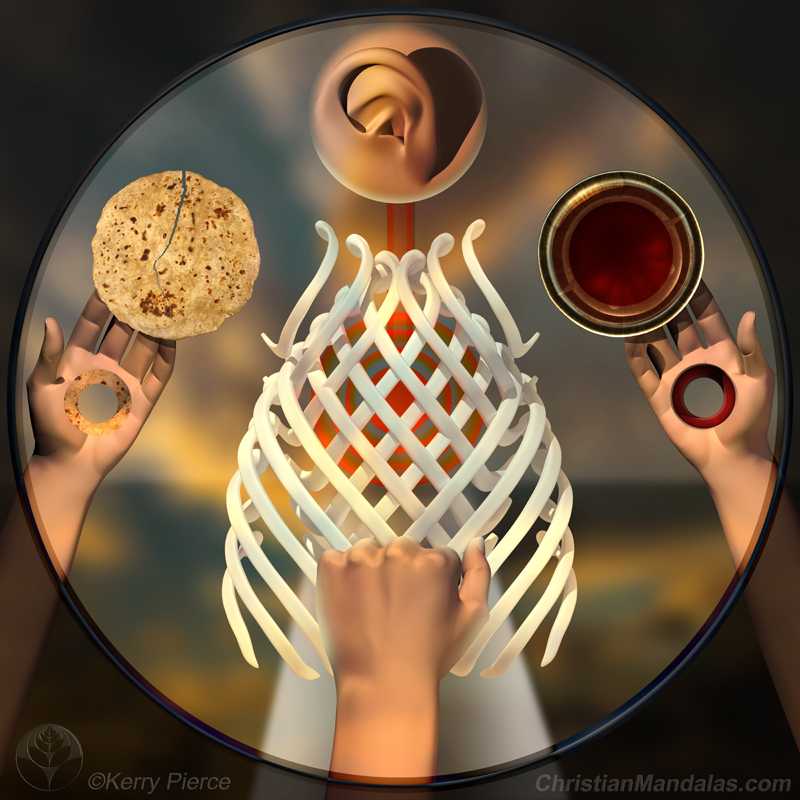 Revelation 3:20 (ESV)
20 [Christ's revelation] Behold, I stand at the door and knock. If anyone hears my voice and opens the door, I will come in to him and eat with him, and he with me.
The Christian Mandala™ shown, Jesus Knocks, depicts Revelation 3:20. Despite its surreal nature, the image is a relatively straight-forward visualization of the risen Christ's words. The strange-looking white lattice structure is made up of human ribs. This structure makes up the door to the circular red heart in the background. Note the connection between the heart and the ear.
Christ seeks after sinners. He searches us out. His quest is a search throughout all humankind. He makes himself known and seeks intimacy with us, but he doesn't force his way into our hearts. We give Christ entrance into our hearts and minds.
Matthew Henry's commentary on this verse is useful. "He uses all proper means to awaken sinners, and to cause them to open to him: he calls by his word, he knocks by the impulses of his Spirit upon their conscience. Those who open to him shall enjoy his presence, to their great comfort and advantage."
To enjoy the Spirit's presence is a glorious state of life. Those who admit Christ enjoy his company in this life and the next.
My regret. I received Christ later in life. My early life was spent as a cultural, or nominal, Christian. My tongue-in-cheek excuse is that I was a PK – pastor's kid. Christ did a lot of knocking before gaining entrance to my heart. My deep regret is that I didn't allow him in sooner.
My conversion prayer went as follows: "Dear God, I've been running things for some time now. I think things could be better. Why don't you take a crack at it?" The prayer sounds casual, but I was deadly serious. I knew I was a sinner and that I couldn't gain access to God on my own. Christ entered.
If interested, use a search engine to query "when do American's become Christians." The data varies, but the commonality is, after the age of 30, the probability of conversion is low single digits. Additionally, the likelihood of conversion drops off after the early teens.
Jesus continues to knock. Open your heart. Gain access to God, and begin laying up treasure in heaven.
Symbols
Chalice with sacramental wine and unleavened bread. The Lord's supper. The body and blood of Christ that opens the way for us to the Trinity.
Ear. In general, the ear is a Christian symbol related to the betrayal of Christ. Recall Simon Peter cutting off Malchus' ear in the garden. I'm using the ear in a non-traditional way to indicate the need for us to listen for Christ's voice.
Some older paintings depict a tiny dove flying into the Virgin Mary's ear, symbolizing the act of conception – interesting.
Ribs. I'm not aware of the use of ribs as a Christian symbol. Biblical references to ribs include the rib removed from Adam, by God, and used to fashion Eve. The other Biblical reference is in Daniel 7, where ribs are mentioned in Daniel's vision of the four beasts.
In human anatomy, ribs protect the heart, so I use them as a symbol for the door to the heart.
Theological Deep Dive – Regeneration
Regeneration is also referred to as being born-again or becoming indwelt by the Holy Spirit. Becoming saved is another term for regeneration.
There are different views on regeneration. Let's have a look at the two main options.
The reformed view. In this view, regeneration precedes faith. This was my experience. I was displeased with the sin in my life and how I was conducting my life. After my prayer, I became regenerate. Immediately, I became intensely aware of the sin in my life and was driven to Christ as the only way to deal with my sin and my guilt. I repented, and life changed.
Non-reformed view. In this view, people choose Christ first and then become regenerate. Some denominations hold that one becomes born-again at baptism. Others maintain that one becomes indwelt at the time they believe in Jesus.
The Bottom line
In both views, the commonality is that one must believe in Christ and the work he did for us on the cross. In other words, to believe that Jesus' blood sacrifice removes your sins from God's perspective. From God's point of view, you become a sinless, holy place suitable for the Holy Spirit to occupy. A new relationship is born.
One believes in Christ, repents of their sinful behavior, and lets God take control.
This is the deal of a lifetime.