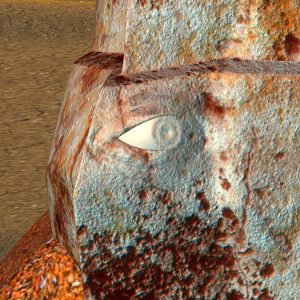 In the surreal Prodigal Son image I have inserted numerous references to Christ.  Last week, we discussed the reflection of Christ in the pool of water.  Christ can also be found in the unusual rock that dominates the scene.  (Please see the July 30th, 2017 blog for the full image.)  The rock weaves Christ deeper into the image and celebrates different aspects of who he is.
The rock has been assigned properties that are not normally associated with a rock.  The rock, or stone, has seven eyes and was inspired by two passages of Old Testament Scripture.
Daniel 2:34  "You continued looking until a stone was cut out without hands, and it struck the statue on its feet of iron and clay and crushed them."
Zechariah 3:8-9  8 Hear now, O Joshua the high priest, you and your friends who sit before you, for they are men who are a sign: behold, I will bring my servant the Branch. 9 For behold, on the stone that I have set before Joshua, on a single stone with seven eyes, I will engrave its inscription, declares the Lord of hosts, and I will remove the iniquity of this land in a single day.
The 'Branch' in the Zechariah passage is also the 'stone,' which Daniel saw in his vision:  The Servant, the Savior, Jesus the Christ.
The stone with seven eyes in my image is then a reference to these two verses, and therefore a reference to our Savior.  In Christianity, seven is the number representing perfection or completion.  Here I am using seven as a reference to the spiritual perfection of Jesus.
Every day I am amazed at God's willingness to welcome repentant sinners home.  A Holy, Holy, Holy God, calling me one of his own.
I reflect on this and remind myself of my own responsibility to extend the mercy and grace that God has shown to me, to others.
If God rejoices at the return of repentant sinners, so must I.